荻野屋 Special Roast Beef (with 2 sauces)
300g 5,400 yen (tax included)
This year, 荻野屋's special roast beef and the popular chicken thigh will be available again.
Roast beef made from Jyoshu beef ichibo is sold in blocks.
Recommended for home parties.
Two types of sauces are also available to bring out the flavor of the meat.
---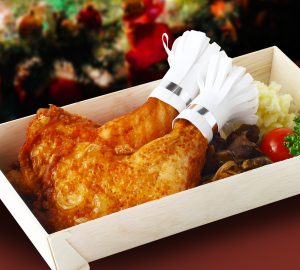 chicken leg meat
810 yen (tax included) for 1 bottle, 1,620 yen (tax included) for 2 bottles
We also offer our popular bone-in chicken thighs in quantities starting from one.
荻野屋 Juicy and grilled with our special cooking method.
Many of our customers may be thinking of having a Christmas party at home this year.
We hope you'll join us for some of 荻野屋's unique and delicious meats!
Reservation period: Saturday, November 14, 2020 to Monday, December 21, 2020
Delivery period: Saturday, December 19, 2020 to Friday, December 25, 2020
Please make a reservation at least 3 days prior to the desired delivery date.
---
Delivery is only available at stores.
The photo is an image of the dish.