From Saturday, August 3, 2019 through Sunday, September 1, 2019, a limited quantity of "Ayu Rice and Ayu Fish Sweet Potato Lunchboxes" will be available.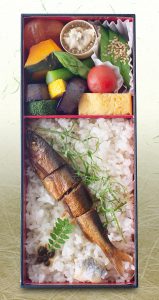 Ayu fish rice with sweetfish and sweetfish natto" 1,800 yen (tax not included)
Ayu fish meat cooked in rice topped with sweetened ayu fish.
The eggplant and zucchini as garnish are also seasoned to take full advantage of the flavors of the ingredients, making this a perfect lunch box for the hot summer months.
*Please note that this is a summer-only product with limited quantities, so please be patient in case it sells out.
*Reservations must be made at least 3 days in advance.
*We are always happy to take your order, so please feel free to contact us for more information.
Reservations03-6263-9939