Thank you for your continued support of おぎのや.
おぎのや supports the Pink Ribbon campaign to "spread correct knowledge of breast cancer.
Every year during Pink Ribbon Month in October, we change the wrapping paper of 峠の釜めし (china) to the Pink Ribbon design and donate a portion of the sales during this period to the Japan Cancer Society.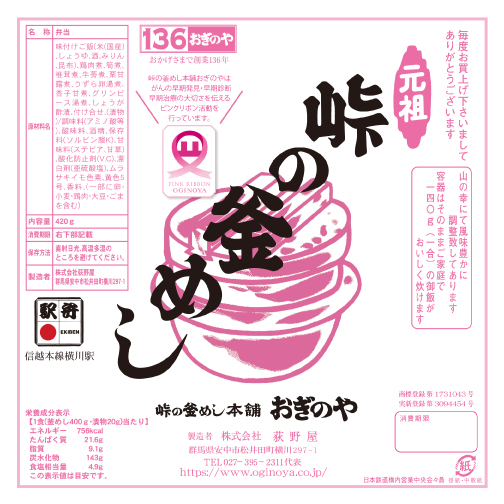 Products for sale
峠の釜めし (pink ribbon specification hanging paper, ceramic)
Excluding 峠の釜めし (pulp mold container)
Period of change of hanging paper
Saturday, October 1 - Monday, October 31, 2022
*Please note that the hanging paper may end even before the end of the period.
Sales Locations
All 荻野屋 stores, etc.