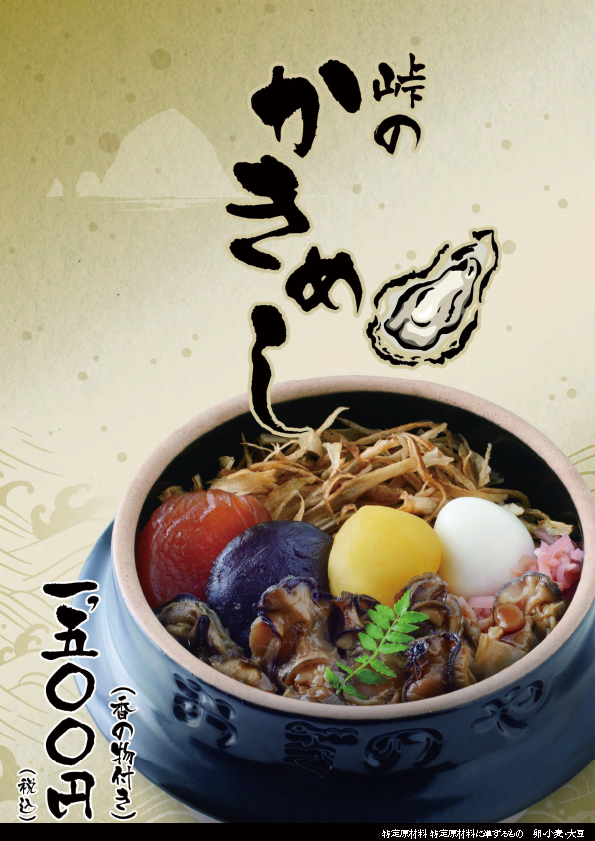 Thank you for your continued support of おぎのや.
From November 18, 2023 (Sat.), we will sell "Toge no Kakimeshi" (oyster rice for mountain pass) for a limited season.
峠の釜めし rice mixed with brown rice and oysters, topped with oysters cooked in a sweet and spicy shoyu base.
We hope you enjoy the taste of the season.
Product Information
Product Name:
rice cooked over a mountain pass
Selling price:
1,500 Yen (tax included)
Sales Stores:
OGINOYA Hachimanyama
荻野屋 GINZASIX
OGINOYA OHACO
OGINOYA GEN Yurakucho
OGINOYA GEN Kanda note (supplementary information) symbol
OGINOYA Nihombashi Takashimaya

Closed on Sundays and holidays (temporarily closed until Monday, the 19th)
Start of sales:
Saturday, November 18, 2023 -
Sales hours
Follows store operating hours
remarks: : The
*Limited quantities will be sold.
*Sales may end earlier than planned depending on the availability of ingredients.
Please understand this in advance.