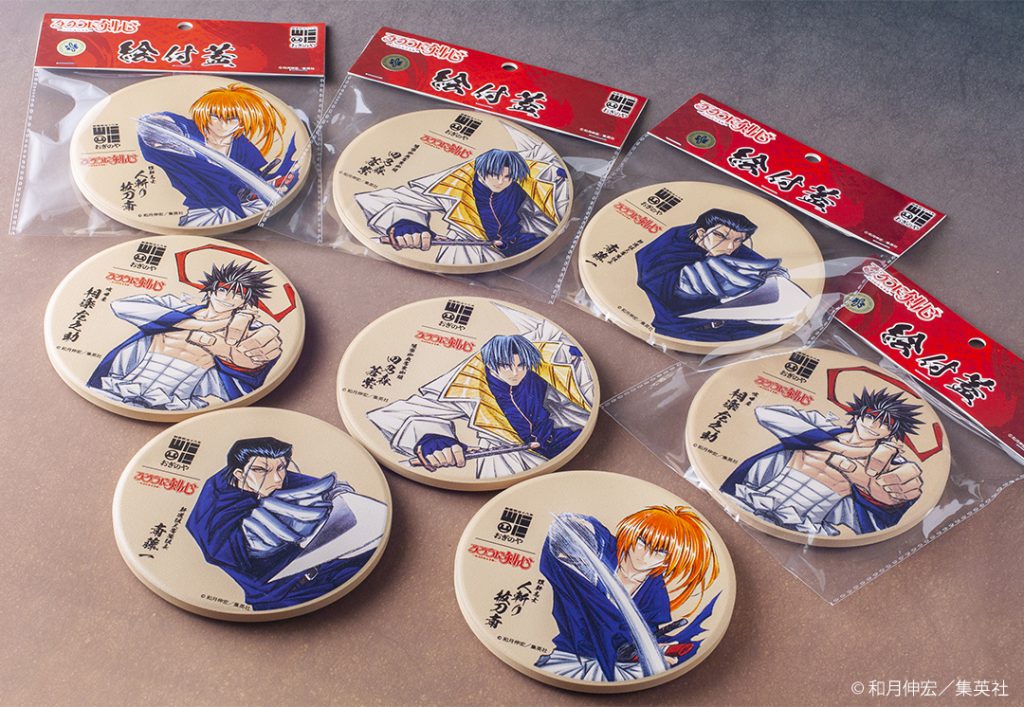 Thank you for your continued support of OGINOYA.
The "Rurouni Kenshin" collaboration painted lid is now on sale.
Each 峠の釜めし ceramic lid has an illustration of the character burned into it.
Four types are available: "Battousai the Manslayer," "Ichi Saito," "Sanosuke Sagara," and "Soushi Shinomori.
We look forward to serving you.
Selling price
990 yen (including tax)
Sales location
Gunma Prefecture
荻野屋 Yokogawa 297-1 Yokogawa, Matsuida-cho, Annaka-shi, Gunma
Jyoshinetsu Expressway Yokogawa SA (up line)" 917 Aza Idoiri, Yokogawa, Matsuida-cho, Annaka-shi, Gunma
Nagano Prefecture
1853-1 Nematsu, Tomi City, Nagano Prefecture, Japan
荻野屋 Suwa Store" 4-39 Okidamachi, Suwa City, Nagano, Japan
Saitama Prefecture
峠の釜めし store at Kamisato SA (up line) on Kanetsu Expressway, 836-1 Gomei Wakamiya, Kamisato-cho, Kodama-gun, Saitama Prefecture
Tokyo, Japan
OGINOYA GINZA SIX  GINZA SIX B2F, 6-10-1 Ginza, Chuo-ku, Tokyo
OGINOYA HACHIMANYAMA  1F TOYA5Building, 1-8-2 Kamitakaido, Suginami-ku, Tokyo
OGINOYA GEN Under the elevated railway tracks of JR East Yurakucho Station, 2-9-8 Yurakucho, Chiyoda-ku, Tokyo
OGINOYA OHACO (Sasazuka)  1-56-18 Sasazuka, Shibuya-ku, Tokyo
Because these are pottery items, there may be slight variations in color depending on the product.
*This is for viewing and display purposes only. Please refrain from using microwave ovens, openers, dishwashers, etc.