Our commitment to the ingredients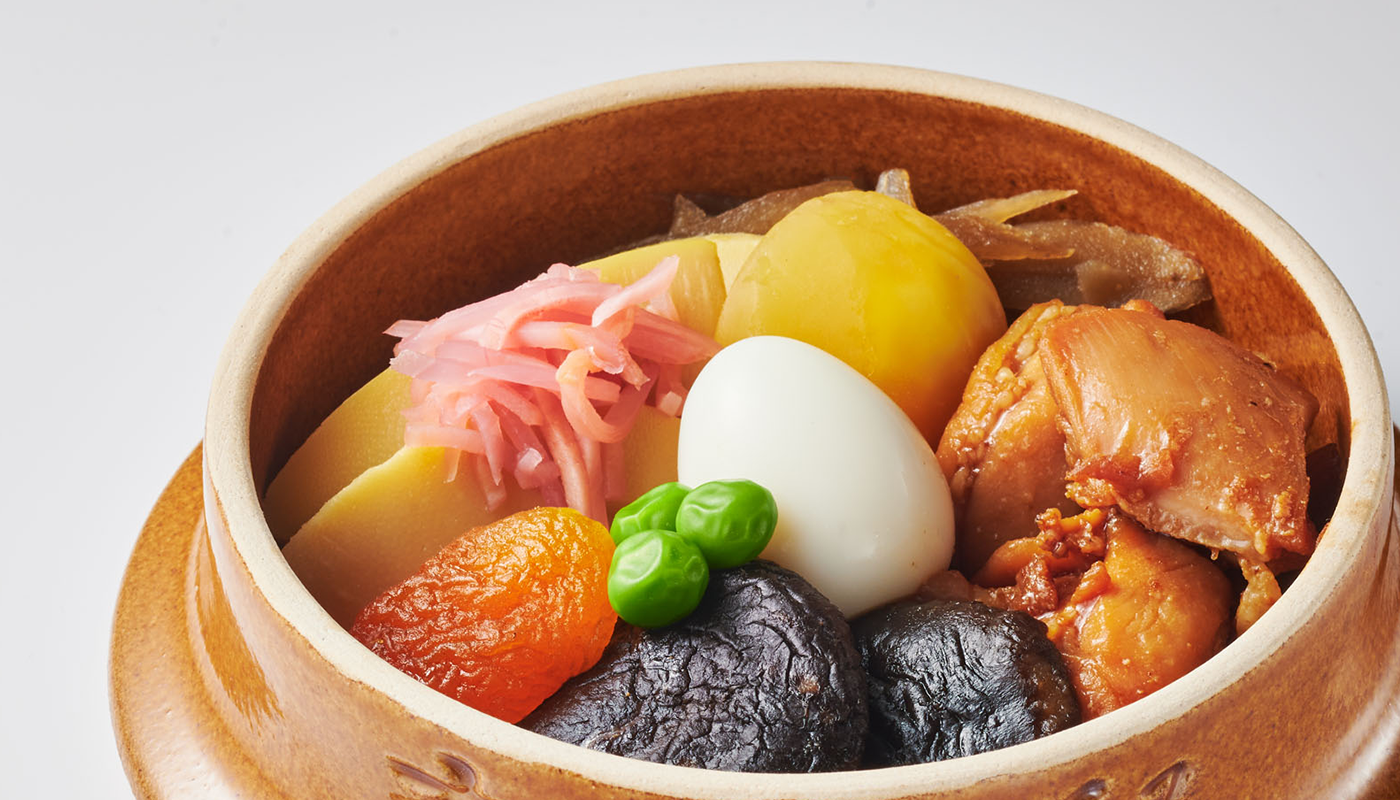 "Touge no kamameshi" is a "taste" of the best of the best.
Each ingredient is carefully examined and carefully and lovingly prepared.
Reviewing the quality of food ingredients with the aim of constantly improving quality
We have also been conducting research on manufacturing methods.
We always have the same passion for our customers, and we want them to enjoy the taste of our handmade products. We strictly monitor the quality of our products and use carefully selected ingredients, both domestic and foreign. "Touge no Kamameshi" is carefully prepared in the same way as bento boxes made with love at home.
Koshihikari rice cooked with a blend of several carefully selected soy sauces and kelp broth is topped with nine different colorful ingredients: chicken, burdock, shiitake mushroom, bamboo shoot, quail egg, chestnut, apricot, green peas, and red ginger. To ensure that the rice is enjoyed to the very end, we have added a separate side dish of savory dishes.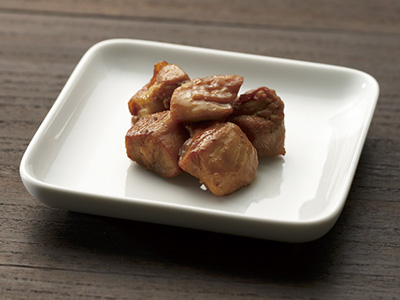 chicken meat
Tender Japanese chicken thighs with a rich flavor are used. The chicken thighs are then finished off with our secret sauce.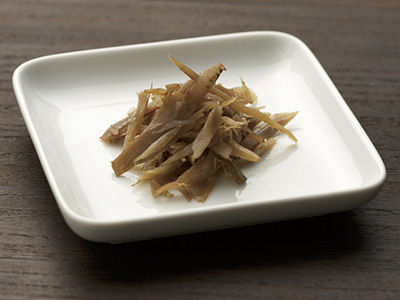 monk's quarters
The burdocks are sourced from different places depending on the season, and each raw burdock is carefully hand-pulled by artisans to create a kinpira-style dish.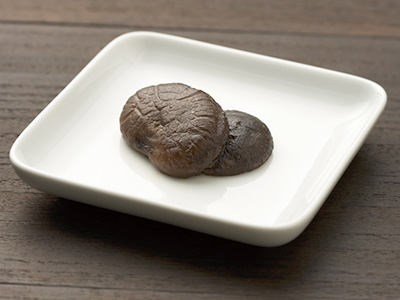 shiitake mushroom (Lentinula edodes)
Selected dried shiitake mushrooms are rehydrated in water for a long time. It is seasoned with dark soy sauce and finished in a way that retains the texture of the shiitake mushrooms.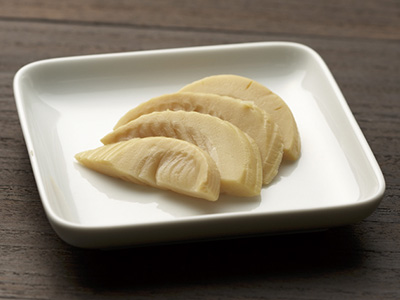 bamboo shoot
Bamboo shoots are harvested all together in the spring, stored at high temperature to remove the edges, and used throughout the year. Light soy sauce is used to give the bamboo shoots their color and Kansai-style seasoning.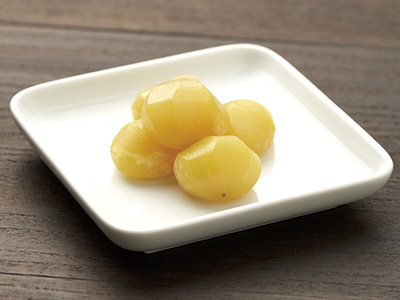 Japanese chestnut (Castanea crenata)
Carefully selected chestnuts are carefully shaped and candied by hand after harvesting throughout the year. Please enjoy the sweetness and the compatibility with cooked rice.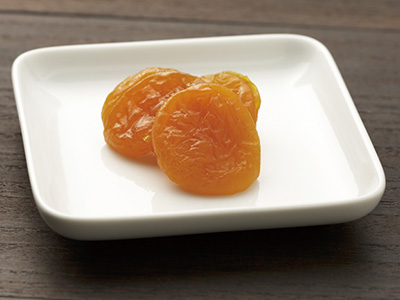 apricot (Prunus armeniaca)
Only carefully selected large apricots with good sweetness and color are used. Apricots are said to be good for both dessert and intestinal regulation, and their sweet and sour taste enlivens the flavor of kamameshi.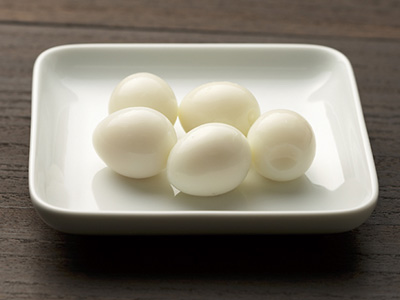 quail egg
A quail egg stands out in the middle. The texture is different because the eggs are boiled in-house from raw eggs. It is up to the customer to decide when to eat it. It is up to the customer.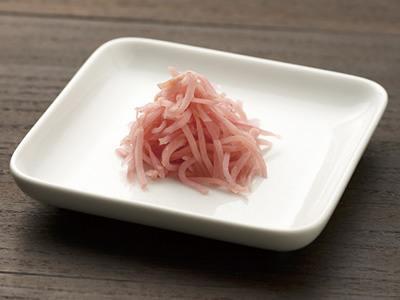 red pickled ginger
Red ginger is pink in color, colored with the natural pigment of Murasaki Imono. As well as accentuating the ginger as a flavor, it gives the kamameshi a gorgeous appearance.
green peas
Don't underestimate three grains. Green peas are also an essential element to complete the kamameshi; one, two, or even four peas will not do.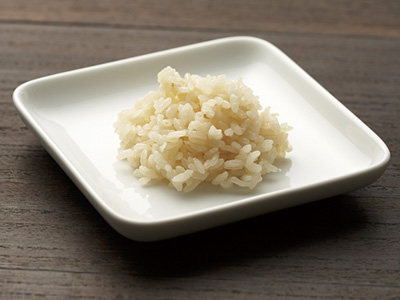 rice boiled in tea (and) flavored with sake and shoyu (flavoured)
OGINOYA calls this rice "chameshi" as opposed to white rice, which is made mainly from Koshihikari rice produced in Azumino, Nagano Prefecture, and cooked with a proprietary blend of soy sauce and Rishiri kombu. It is filled with our desire to make sure that the rice is delicious to the last bite.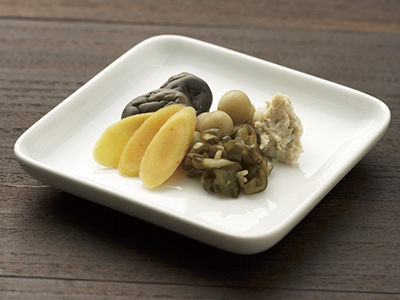 pickled vegetables
Since it is lonely to eat "Touge no kamameshi" with rice alone at the end, we serve it with assorted pickles as a garnish. They are a supporting role that further enhances the deliciousness of the rice.